How to stream to several platforms with different video settings?
Want your streaming to reach more end-users? Want to rank highly without compromising on video quality? The Streamster Transcoding feature can help.
Unlike many other streaming platforms, we won't force you to limit your live video performances. Nor will you need to figure out how to use a complicated and time-consuming restreaming system to meet the needs of your users. Instead, simply use the Streamster Transcoding feature and select from two advanced preference sets including different Resolutions, FPS and Bitrates. (Part of the Lite+ and Pro+ pricing plans).
No extra processor work. No extra network load. Just quality every time.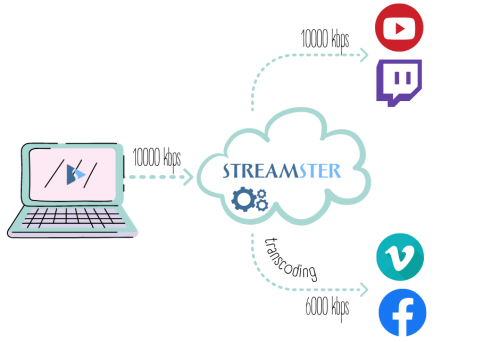 Key features of Streamster Transcoding:
Different live stream Resolutions, FPS and Bitrate options

Up to 2k/60FPS on original channels and up to 1080p/30FPS on transcoded channels
Less than one-second additional latency
Unlimited usage with monthly subscription (from $30/month) or pay-per-use model (from $0.48/hour)
Switch on or off transcoding and change bitrate for the original and transcoded channels on the fly during the live stream
No extra processor and network load – it's all on our end.
Now let's see how to set up Transcoding in Streamster:
First, just create channels that you want to stream to.


Then you need to set up the transcoded channel.


And assign channels to original or transcoded quality.

You also can activate/deactivate transcoding for a certain channel on the main panel.


Download Streamster for Windows for FREE