How to Stream to Facebook and Youtube at the Same Time for Free
How to Stream to Facebook and Youtube at the Same Time for Free
Streaming to both Facebook and YouTube simultaneously offers several benefits:
1. Reach a diverse audience: Facebook and YouTube have significant user bases, and streaming on both platforms allows you to access different audiences with varying demographics and interests. While YouTube is known for its wide range of content, Facebook has a diverse user base that includes both gamers and non-gamers. By streaming on both platforms, you can expand your reach and engage with a broader audience.
2. Leverage Facebook's social features: Facebook provides robust social features that can enhance your streaming experience. These include features like reactions, comments, and the ability to tag friends and share your stream on your personal profile or community pages. These features encourage interaction and engagement, allowing you to build a community around your content.
3. Tap into YouTube's video-centric ecosystem: YouTube is a well-established platform for video content and has a massive user base. Streaming on YouTube allows you to leverage its powerful search and discovery algorithms, making it easier for potential viewers to discover your content. Additionally, YouTube offers a range of monetization options, such as ads, channel memberships, and Super Chat donations, which can help you generate revenue from your streams.
4. Diversify platform presence and mitigate risks: Relying solely on one streaming platform can be risky due to potential changes in algorithms, policies, or platform shutdowns. By streaming on multiple platforms like Facebook and YouTube, you reduce the risk of losing your entire viewer base if something were to happen to one platform. Diversifying your platform presence also allows you to explore which platform resonates better with your audience and where you can maximize your growth and engagement.
5. Increase discoverability and engagement: Streaming on multiple platforms increases the chances of your content being discovered by new viewers. It provides an opportunity to attract viewers who are active on either Facebook or YouTube but not necessarily both. Moreover, by streaming on multiple platforms, you can encourage cross-promotion between the platforms, driving traffic and engagement to your streams.
It's important to consider your available resources, such as hardware capabilities and internet bandwidth, as well as the additional effort required to manage multiple platforms simultaneously. Each platform may have specific streaming requirements, so it's crucial to ensure compatibility and optimal settings for each platform.
Streamster for mutistreaming
There are a several ways how to stream to Facebook (personal profile, page or group) and Youtube simultaneously. The best one is using streaming software that supports the multistreaming feature. Streamster suits for this purpose perfectly and will allow you to broadcast to Youtube and Facebook with the best quality, easiest streams setup and management. And it's for free!
How to set up channels for Youtube and Facebook in Streamster?
1. Download and install the Streamster app.
3. Click the "Add Channel" button.


4. Click on the Facebook Live logo.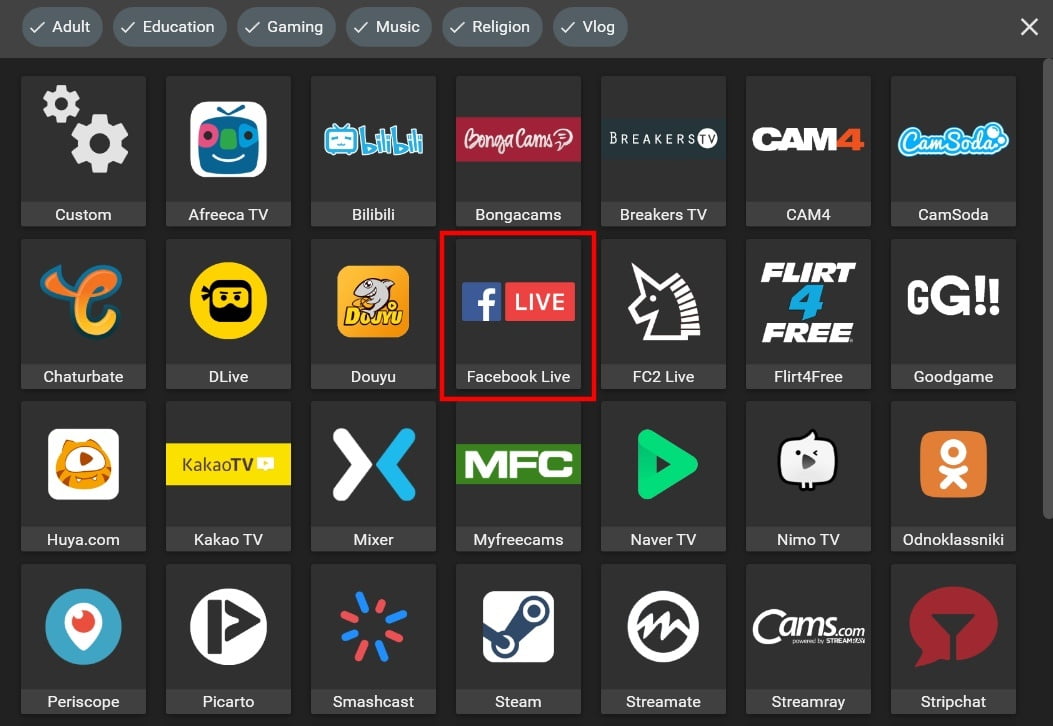 5. Set up the Facebook channel by pasting the stream key from your Facebook account (1) and click the "Add channel" button (2). Instructions for finding your stream key on Facebook can be found here.

6. Click the "+" button to add another platform.

7. Choose the YouTube logo.

8. Set up the YouTube channel by pasting the stream key from your Facebook account (1) and click the "Add channel" button (2). Instructions for finding your stream key on Facebook can be found here.

9. Click the "Play" buttons for both platforms to start your stream